How to create an invoice and credit note
Under the "Customers Invoices" Tab, click "New Invoice" and complete the necessary information: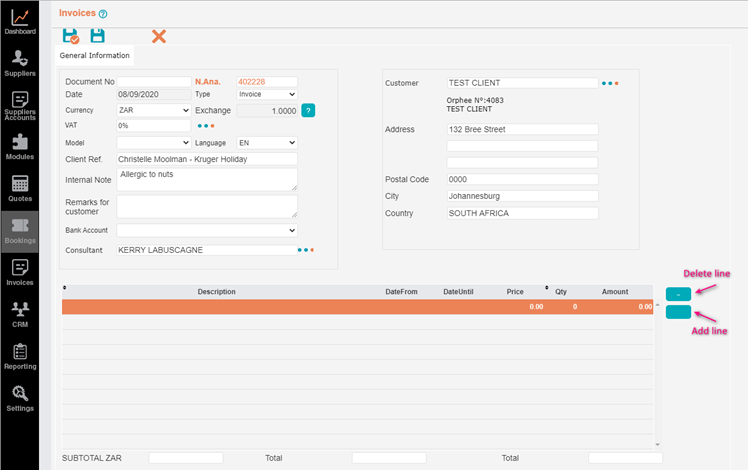 Whatever you input in the "Description" field, will show on the invoice (eg: Kruger Holiday – 50% Deposit or Kruger Holiday – Full Payment).


Use the "Add Line" button to create additional lines to be shown on your invoice.



Click "Save & Close".





As a precaution, the system will generate a Pro-Forma invoice. To view the invoice, click "Print":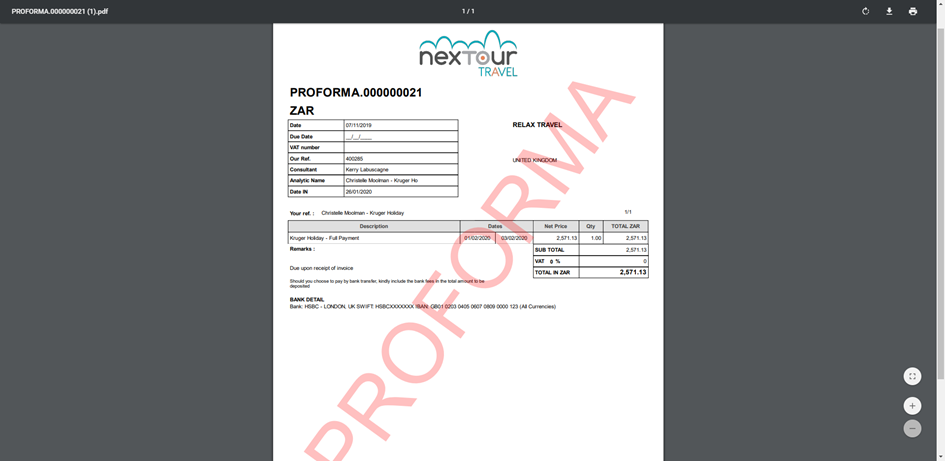 In order to convert this Pro-Forma invoice, click "Confirm Invoice"




Insert the invoice due date and click "Validate the invoice", and then select "Yes":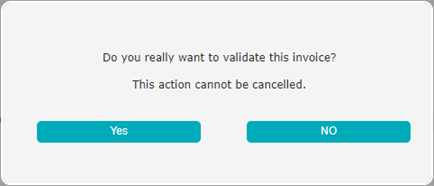 To view the invoice, click "Print":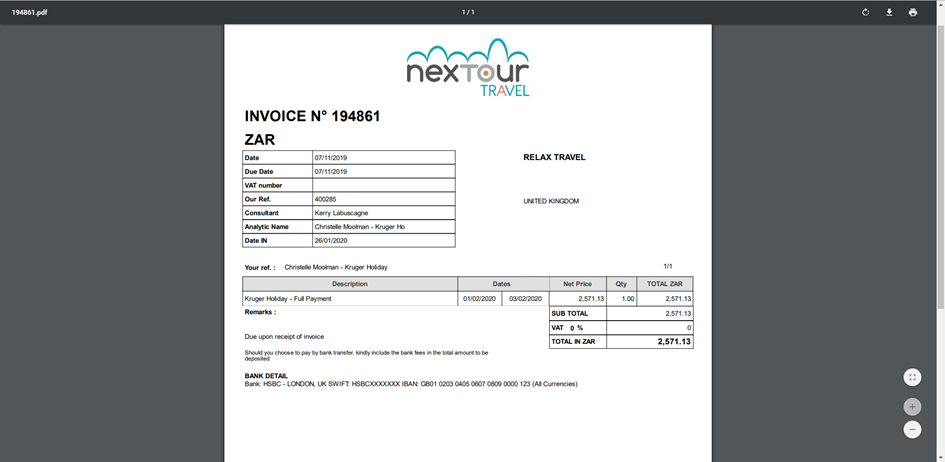 Invoices can also be viewed from the "Invoices" Tab on the main page (right hand side):





Use the search criteria at the top of the page to filter results and find the invoice you're looking for:


Related Articles

How to create vouchers

Vouchers are created to represent a proof of payment to the supplier in order to obtain a service. Select the "Vouchers" Tab. A blank section will appear. At this stage, no vouchers are showing: Click "Suggested Vouchers". All services with confirmed ...

How to create legs

The "Legs & Pax Bases" Tab let you create legs (itineraries) and set the pax bases (number of people) in your quotation. Why would you need to create legs? - When quoting different countries & currencies in one itinerary (ie: South Africa – ZAR & ...

How to create a new quote

Select the "Quotes" Tab from the menu on the left-hand side of the screen, and click on the "New" button: A blank quote template will now open in the "General Information" Tab: Complete each field as necessary: Document No: Do not fill this in – The ...

How to create a new customer

Once you have performed a very thorough search to make sure the customer isn't loaded, click on the "New" button. A blank template will open as follows: Complete the information as necessary on all of the tabs and click "Save". The new customer will ...

Viewing Supplier's list of invoices

This function serves to view a list of supplier's invoices (paid or unpaid), and serves as a statement of accounts. Select "Suppliers Accounts" from the navigation bar on the left-hand side of the screen. Use the filters to search for a specific ...