How to read and amend exchange rates
Under the "General Information" Tab within a quotation, on the right-hand side of the screen, click "Exchange Rates".

A new window will open as follows:





By default, the system will provide the exchange rate allocated by Nextour.

If you select "Exchange rate allocated by consultant", the system will show manually entered exchange rates.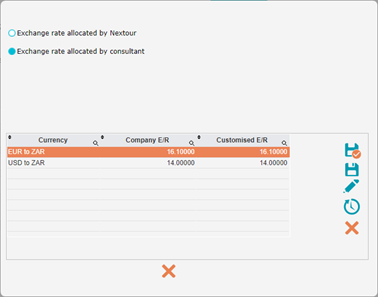 Click "Edit" and then "Yes" when asked if you really want to amend the exchange rate.




Click "Save & Close" when done.


Related Articles

How to view rates

Select the « Suppliers icon » Select « Database » In the database, use the filters for researching suppliers. Once you have found the desired supplier, to check rates, click on the "Edit service" function to access rates and details: The ...

How to export specials, lists and rates

The Export function allows you to export data in the following ways: Export Specials: This function exports all "Special notes" and "Specials/promotions" under desired suppliers. The filters are as follow: Refined search: Type in the supplier along ...

How to set or amend the mark-up policy

Under the "General Information" Tab within a quotation, on the right-hand side of the screen, click "Mark-up policy". A new window will open as follows: The mark-up policy will automatically default to the policy set up by your company for the agency ...

How to manually amend a service cost or margin

When importing a service into an itinerary, you are able to manually change/override the cost of the service and the margin as necessary. Costs are normally amended for select reasons and should be used with extreme caution: - When the rate is not ...

How to complete the Documentations / Operations information

When inserting a service into the itinerary, from the rates page, select the "Documentations / Operations" Tab at the bottom of the page: Icon descriptions / functions: