Print - Provisional Frontpage


The Provisional Frontpage allows you to export a summary of services included in the client's itinerary. The report will be generated as an excel document as follows: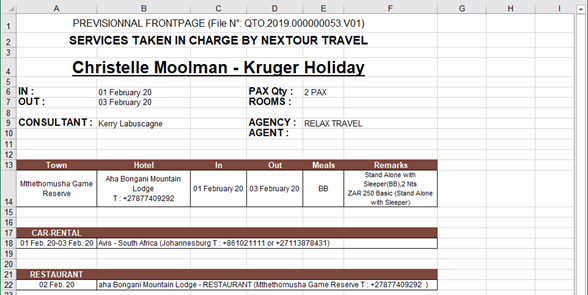 Related Articles

Print functions

The purpose of this function is to export the following documents: - Quotation from Nextour in Word or PDF. - Detailed program from Nextour in Word or PDF. - Client program from WETU. - Quotation costs to Excel. - Quotation sales to Excel. Summary ...

Final frontpage

The "Final front page" enables to export a summary of services included in the client itinerary. Select Final Front page A window will require to choose between category view or Checklist view: Category View: Exports a summary of services onto Excel ...

How to convert a quote into a booking

Select the "Quotes" Tab from the menu on the left-hand side of the screen. Search for and open the desired quotation. On the "General Information" Tab, select the version you would like to be converted into a booking. Click "Create Booking": A new ...

How to load a rooming list

From within the booking, select the "Participants" Tab: In the bottom left-hand block, insert the first passenger's details: Click "Save". The information now appears in the block above as follows: Continue these steps until each passenger's details ...

How to create an invoice and credit note

Under the "Customers Invoices" Tab, click "New Invoice" and complete the necessary information: Whatever you input in the "Description" field, will show on the invoice (eg: Kruger Holiday – 50% Deposit or Kruger Holiday – Full Payment). Use the "Add ...