How to insert titles and suggestions
Under the "Program Detail" Tab, click on the Day you would like to amend: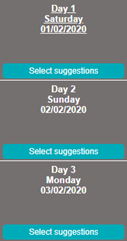 A new window will open which will allow you to amend the title of the particular day, as well as a description that will pull through on WETU:





In order to add a suggestion to your itinerary, click on the "Select Suggestions" button on the left-hand side of the screen. A new window will open with a list of all of the suggested activities that can be added. You are able to select from the list, or add your own as needed. Be sure to tick the "Select" block before adding the suggestion to your itinerary: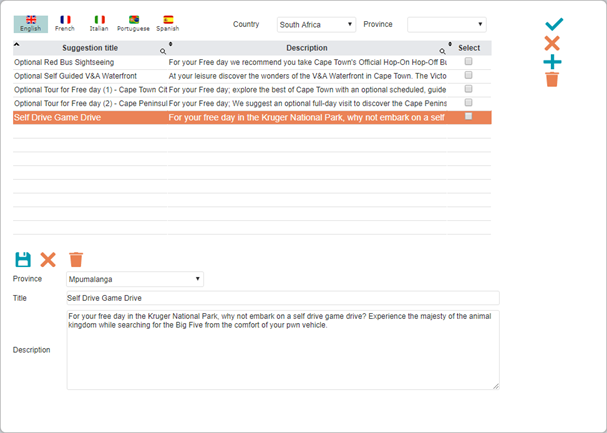 Related Articles

How to load descriptions and photos

Descriptions: Hover over the "Suppliers" icon and select "Database". Use the filters to search for the required Supplier. Once you have found the desired supplier, click on the "Edit service" button to open the Supplier's service. This can be done by ...

How to complete the Program Description

When inserting a service into the itinerary, from the rates page, select the "Descriptions" Tab at the bottom of the page: Icon descriptions / functions:

How to add a service with a cost

Select the "Program Detail" Tab. In the required block, click the "Add Service" button: From here, a new window will open. Select the type of service you would like to add to your quotation and click "Select". The Suppliers Database will open in ...

Planning view VS Checklist view

Unlike the quotes section, the booking section enable you to view the Program Details Tab in 2 different views: Planning View: This option enables you to view the itinerary in a horizontal format (as is familiar in the quote section): This view ...

How to add a service without a cost

Adding a service with no cost serves two purposes: 1- A description (eg: Clients eating at their own expense). 2- A service where the cost is not covered by the company but must be included on the itinerary. Option 1: In order to add a service into ...